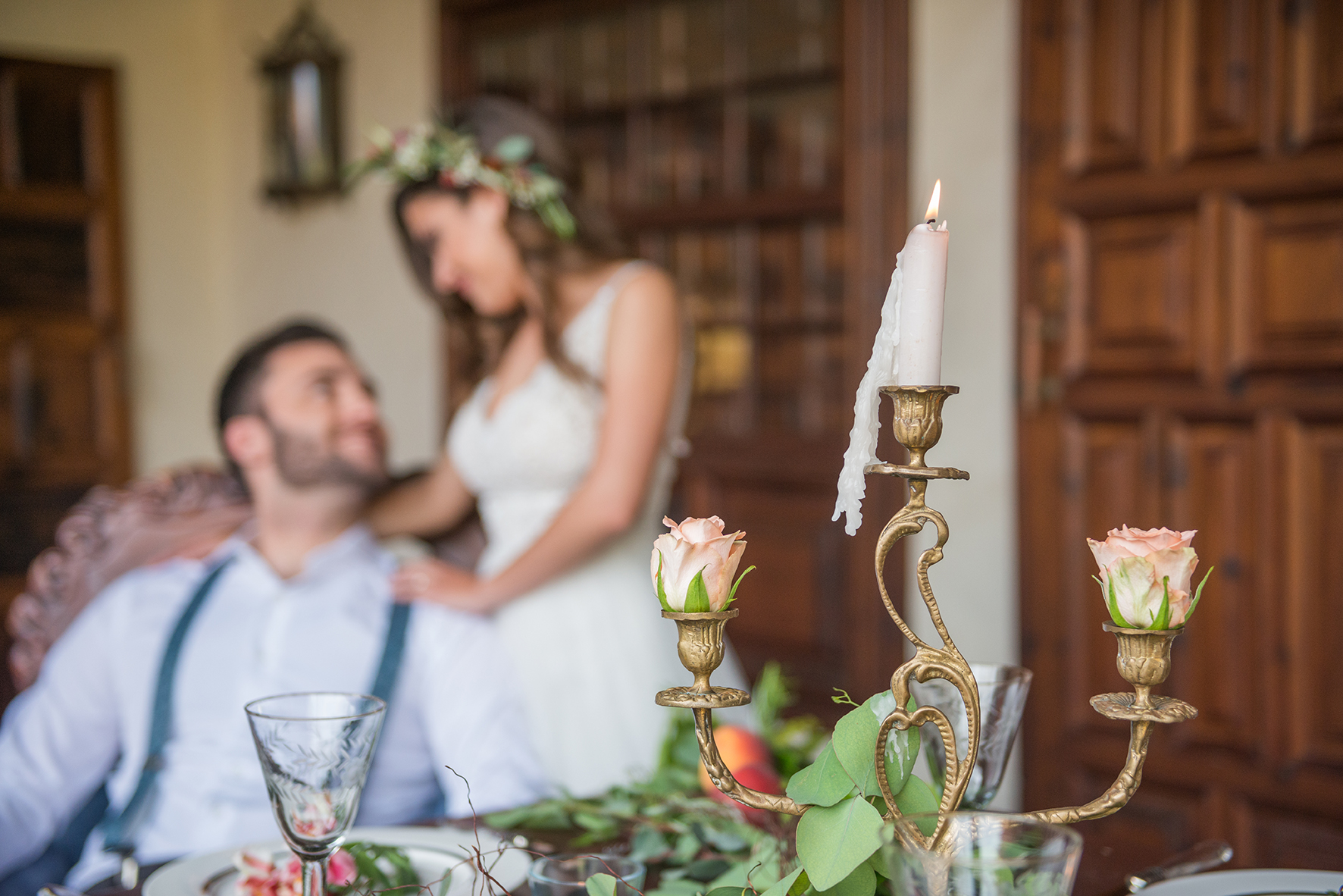 Érec and Celine were from Orleans, but they knew they must leave and give a new direction to their lives.
She had no longer her parents alive, he didn´t have a good relationship with his own, and most of their friends had moved to other countries for professional reasons. When they got engaged, they had no one around to share the happiness, so they decided it was time to look for a charming place to start from scratch.
So they decided to move and say "yes, I do" to each other at the Canary Islands.
There is some nostalgia in the air as they prepare. Celine checks her mother's jeweller and wears a pair of her old earrings to feel her a little closer; on the other hand Érec thinks that he does not want to repeat his parents ́ mistakes in his relationship.
But when they see each other again while getting ready for the ceremony, all the negative thoughts and melancholy vanished. There is only love in their eyes.
They are overwhelmed by the most indescribable happiness. There have been many significant changes in a short period of time, many decisions that although were scary were taken with determination and confidence. Everything will be fine as long as they have each other. And they know that.
They need nothing more (rien de plus).
The less the better. That was our motto by the time of building up this story.
Rien de plus is the result of a Franco-Spanish collaboration developed in a dream scenario: the "San Sebastián Hacienda", a vast farm whose main construction is from mid XVIII century, located at "La Orotava" district, in Tenerife.
We decided to present just the essential elements to avoid overfilling the workspaces, in order to present a "minimal elopement" with a Celtic culture touch such as the "handfasting" (joined hands symbolising the couple ́s souls connection) and the ceremony ́s floor circular shape, as an eternity symbol.
The models Javier Kulier and Fátima Díaz are a true couple. This was the photographer Anaïs Josien ́s requirement to work on the project. In addition to making it aesthetically engaging, she wanted her work to reflect authentic emotions. The way they look at each other and the love between Fatima and Javier is astonishing and noted in the final result.
With the colour scheme chosen by Ana Cruz (Deko), we attempted to evoke the Victorian era romanticism.
The burgundy colour delivers intensity and elegance, particularly alongside the golden elements, while light pink and off-white create a more delicate effect. Those colours, in combination with the light green vegetation, convey a very natural and relaxed feeling. The indigo armchairs next to the table, highlight over the dark wood in a vibrant way and brighten the place. The secondary colours such as peach or pure white serve as a connection between the darker and lighter nuances, giving harmony to the whole.
Location: Hacienda San Sebastián (Tenerife)
Photography: Anaïs Josien
Floral decoration: Las Libélulas Flowershop
Design: Deko y Gabrielle Konali
Models: Javier Kulier y Fátima Díaz
Custome Design: Rosa Clará y Protocolo Novios by Geyma Alta Costura
Hairdressing: Hecttor Rodríguez
Makeup: Laura Pinto
Jewellery: Alianzas Pedroro
Shooting coordination: Gabrielle Konali